New Sun care and Anti-pollution Natural Actives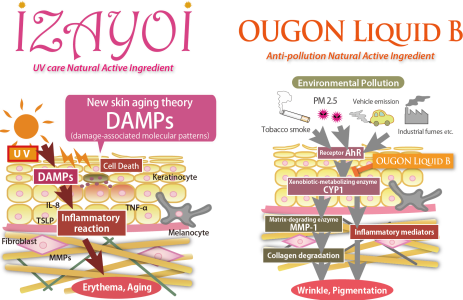 Ichimaru Pharcos introduced Izayoi as a new sun care natural active, and Ougon Liquid B as an anti-pollution natural active at SCS Formulate 2016 in the UK. Both items are composed of ingredients listed in IECIC 2015, Inventory of Existing Cosmetic Ingredients in China.
Ichimaru Pharcos have developed a new product called Izayoi, as a new sun care active ingredient through the newly revealed anti-inflammation pathway. Izayoi improves many skin beauty factors which may be stimulated by UV in sun light; for example, erythema/sun burn, skin darkening and wrinkles.
According to the company's studies for MED (Minimum Erythema Dose) on the same people over 10 years, MED becomes lower with ageing. Ichimaru Pharcos found one of the reasons that aged keratinocyte is more damaged by UVB compared to young keratinocyte.
Keratinocytes damaged by UVB release denatured U1RNA which is one of the DAMPs (Damage-associated molecular patterns), and surrounding non-damaged keratinocytes recognise the DAMPs to initiate inflammatory reactions leading to skin ageing like wrinkles, age spots or pigmentation. DAMPs influence is getting greater on aged keratinocytes, so older people need to pay attention to more sun care.
Izayoi inhibits DAMPs response on keratinocytes at the earliest stage of inflammation caused by UVB, so it is the most significant way to prevent photoageing. Izayoi inhibits inflammation cytokines induced by DAMPs-like substances on human keratinocytes but other conventional anti-inflammation agents do not have the same function. On human clinical studies, Izayoi inhibited facial erythema caused by the sun exposure, melanin activation, sun protection, wrinkles and skin hydration.
Izayoi is a natural plant extract made from rose fruit called 'shiri', from Traditional Chinese Medicine. The fruit is rich in vitamin C, so it is also used for dietary supplements and fruit liquor. Izayoi uniquely inhibits the DAMPs related inflammation induced by UVB while other common anti-inflammation agents do not; therefore, Izayoi gives the cosmetic industry a new era of sun care.
In addition, as an anti-pollution active, NEW DATA protecting the skin from PM2.5 (Particle Matter 2.5) will be introduced on a product called Ougon Liquid B, a natural plant extract with anti-pollution efficacy controlling on the AhR pathway (aryl hydrocarbon receptor) for the recent skin care trend.
PM2.5 is the one of representative pollutants many Asian countries suffer from. The company has just obtained new data that Ougon Liquid B inhibits IL-1, 6 and 8 induced by PM2.5 on human keratinocytes.
This product has also anti-pollution studies on tobacco smoke, and the studies show anti-wrinkle and anti-pigmentation efficacy in human clinical trials.
Other News