Events Diary
Description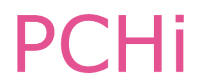 PCHi provides the most effective business platform for domestic and international ingredient suppliers to engage manufacturers of cosmetic, personal care and household products.
The event is rotated annually between Changjiang Delta and Zhuhai Delta - two of China's most affluent business areas that are also key manufacturing hubs for the personal care, cosmetics, toiletries and home care industry. That is why PCHi continues to draw business professionals such as formulators, manufacturers, R&D technologists, and senior management from all corners of the global community.
PCHi provides a one-stop platform for peer-to-peer information exchange on emerging market trends, technological innovations, new scientific developments, and updates on international regulations. Through various marketing initiatives such as the PCHi Cybrary, the PCHi Online Scheduler, and comprehensive market briefings and presentations, PCHi is able to successfully bridge like-minded businesses together to trade and explore collaborate.
Venue
Shanghai World Expo Exhibition & Convention Center
Date(s)
26 – 28 February 2020
Contact
Fane Fan
Email
Web
Description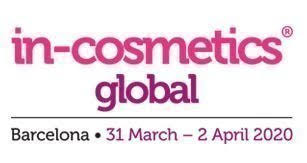 The leading global event for personal care ingredients
The exhibition brings together up to 800 international exhibitors of ingredients, fragrances, lab equipment, testing and regulatory solutions with over 9,300 cosmetic manufacturers worldwide.
in-cosmetics Global is the global launch place for innovation in ingredients and technologies, providing high-level scientific education and consumer insights for formulators, R&D and regulatory professionals.
Showcasing industry trends throughout the world, in-cosmetics Global offers you the opportunity to immerse yourself in the latest innovations, understand new developments in personal care ingredients and network with the world's personal care ingredients community.
Venue
Fira Barcelona
Date(s)
31 Mar - 2 April 2020
Contact
Shona Thomas - Marketing Manager
Email
Web
NYSCC Suppliers' Day 2020
Description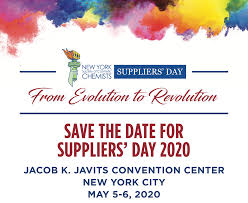 NYSCC Suppliers' Day serves as one of the most important North American events on the industry calendar. The event attracts thousands of the leading players in the market and has become the showcase for the latest innovations, on top of being an excellent networking opportunity. As the capital of the global health, beauty and fashion industry sectors, New York City is the inevitable and welcome choice for this event. Now in its fourth year in NYC, Suppliers' Day is once again increasing its reach and expanding its global presence.
Venue
Jacob K. Javits Convention Center, New York
Date(s)
5 – 6 May 2020
Contact
Jane McDermott
Email
Web
Description

With 2020 marking its 6th edition, in-cosmetics Korea is a platform for some of the most exciting ingredient launches in Korea.
The show offers visitors unrivalled access to the latest raw materials, testing services and extensive learning opportunities, as well as the most innovative ingredients available on the Korean market.
Taking place at COEX in Seoul on 17 - 19 June 2020, the show is the only exhibition
dedicated to personal care ingredients in Korea and will extend to a three-day event by popular demand.
Over the course of the three days, the personal care industry will be united, with more than 250 international suppliers of ingredients, fragrances, testing, lab equipment and regulatory solutions meeting with an expected 7,000 (predominantly Korean) cosmetic manufacturers, R&D representatives and regulatory professionals.
This interactive event offers visitors a unique opportunity to not only touch and test brand new products, but also enjoy a free educational programme, providing comprehensive learning opportunities across three themes: Cosmetic Science & Technology, Technical and Marketing Trends & Regulations.
Shaping future industry trends, in-cosmetics Korea offers the most cost-effective business and networking opportunities for the Korean personal care ingredients community.
Join us from Wednesday 17th June 2020 for the sixth edition of in-cosmetics Korea.
Venue
Hall C, Coex, Seoul, South Korea
Date(s)
17 - 19 June 2020
Contact
Jihee Han
Email
Web
Description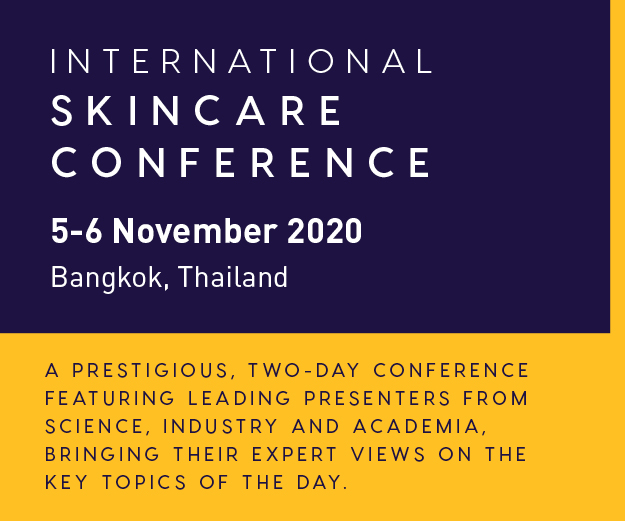 A prestigious, two-day conference featuring leading presenters from science, industry and academia, bringing their expert views on the key topics of the day.
The International Skin Care conference will focus on industry developments in South East Asia, Australasia and the Pacific Rim. Experts from outside the area are also invited, to broaden the scope of the meeting.
Delegates will be professionals working in the skin care product sector, interested in the current status of the scientific aspects of anti-ageing skin care technology and sun care, in particular those involved in:
•Skin care product formulation • Product development •R&D •Product evaluation •Clinical trials •Regulatory affairs and compliance •Testing and claims substantiation •Marketing and product management •Dermatology •Raw materials supply •Laboratory testing •Retail of sun and skin care products
The conference was launched in Asia in 2014 to bring the same high-level event as the Sun Protection and Anti-Ageing Skin Care conference to this region.
Venue
Hilton Sukhumvit Hotel, Bangkok
Date(s)
5-6 November 2020
Contact
Rosie Mathers
Email
Web