Trendy and sustainable products enabled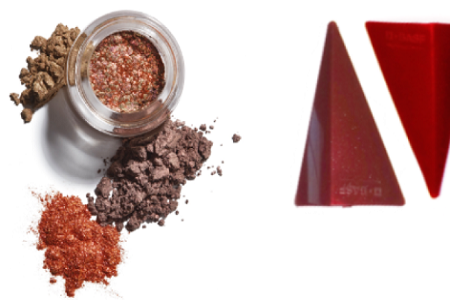 Sustainable consumption is no longer a trend for cosmetics consumers, it has become a movement.
An increased demand for natural clean, vegan and cruelty-free beauty products are combined with the requirement of hygienic packaging and a wish for a closed loop waste management. Considering consumer demand for a sustainable product design in all aspects, the Colors & Effects Inside Out project supports cosmetics customers with a combined approach of safe, sustainable and brilliant pigments for both cosmetics formulas as well as their packaging materials.
"With our Cloisonné Vibrant Raspberry F90H we enable clean and vegan formulations with bold, magenta and pink effect pigments," says Genevieve Lee, associate marketing manager for Cosmetic Effect Pigments. She highlights: "Globally approved for all color cosmetics, skin care and personal care applications, Cloisonné Vibrant Raspberry is based on ethically and sustainably sourced natural mica from the US.
Bright colours and sparkling effects are a relevant selling factor in the consumer goods market. Gaining customers' attention with decorative packaging can bring a high value for cosmetics brands. As commercial marketing manager for Plastics at Colors & Effects, Meli Laurance has brought packaging designs to life with current cosmetic trends.
She says: "Our stylings showcase the Lumina Royal family of products, especially our new Lumina Royal Blue Russet EH 3007 that achieves a bold fuchsia shade, bringing brilliance to sensitive application packaging."
For sensitive application packaging in intense dark shades or noble grey tones, the high purity pigment Sicopal Black K 0098 FK has been designed to be detected at materials recycling facilities. Black colorants, which are based on carbon black, remain undetected by waste sorting machines due to the pigments high absorbing properties. Replacing carbon black with the new NIR-reflecting Sicopal Black K 0098 FK makes it possible for cosmetics packaging to remain in the recycling loop.
Other News
Featured Supplier

KahlWax: The natural wax specialist
KahlWax is one of Europe's leading manufacturers of natural waxes, including Beeswax and Carnauba wax, and countless other plant-derived waxes. We offer a wide range of products and services, focusing on refining natural waxes, tailor-made specialty waxes, powdered waxes, wax emulsions and cosmetic bases. We...