New consumer care innovation centre opens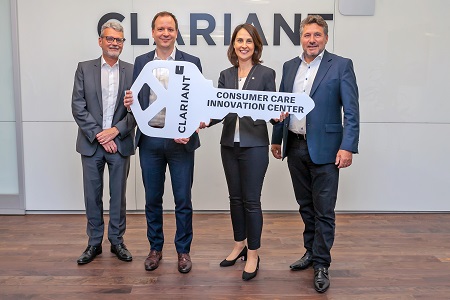 Clariant has officially opened its new Consumer Care Innovation Center (CCIC). Based in New Providence, New Jersey, the emphasis of the centre will be on innovation to capture the value of North American consumer trends and creating regional expertise in formulating, ingredient development, product evaluation and consumer testing.
CCIC will further fuel the close collaboration with customers to co-create value adding solutions.
"Intensifying our connection with customers as we strengthen our on-the-ground support is an important part of our growth strategy in North America and in expanding Clariant's position as a thought leader in Consumer Care. The CCIC really delivers on these priorities, giving us the capabilities, proximity to the consumer care segment and speed to focus on customer needs with products and innovation that bring value," commented Christian Vang, global head of Business Unit Industrial & Consumer Specialties (ICS).
During the opening ceremony, the Consumer Care team also shared a taste of what is to come via new concept "ReMAGINE" – convenient, alternative formats for skin care and hair care that address latest sustainability trends. "The ReMAGINE concept epitomises what the Consumer Care sector can look forward to from this fabulous new facility as we work closely with customers across the industry on products that fulfill regional trends – designed in North America for North America – and have global relevance too," continued Christian Vang.
ReMAGINE presents a line of novel formats for skin and hair care that touch multiple trends affecting many North American consumers, where demand for new and convenient experiences to fit busy lifestyles meets the call for more sustainable products.
The concept proposes ingredients selected for their mildness, performance and sensory combined into innovative solid single-dosage formats ideal for product refills, an alternative to single use plastic packaging.
Neslihan Utkan, head of Consumer Care North America, Industrial & Consumer Specialties, said: "Over the past five years, there has been a rise in the number of skin and hair care products with convenience claims and the introduction of alternative formats has recently accelerated. ReMAGINE provides both inspiration and concrete solutions to help consumer care brands capitalise on these trends. The concept formulations capture consumers' desire for easy on-the-go convenience that will help them streamline their beauty routines and be more sustainable by using less water and packaging."
Other News