Plant cells from Rose from Damas to decrease wrinkles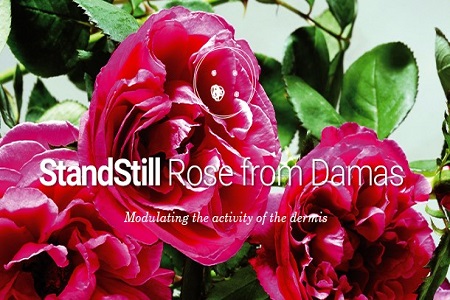 Naolys, the French company specialised in plant cell culture present whole plant cells from the Rose from Damas for skin care and makeup applications to decrease wrinkles and firm skin.
StandStill Rose from Damas are active plant cells made from the Rose from Damas (Rosa damascena), one of the famous roses commonly used in the heart notes of many perfumes. They are produced with a specific biotechnology mixing plant cell de-differenciation and a plant cell culture controlling the synthesis of active molecules inside cells. Dedicated to adult and mature skins, StandStill Rose from Damas will help to provide an overall anti-ageing effect.
Indeed in vitro studies show that StandStill Rose from Damas decrease fibroblasts senescence with a senescent rate cells of 17% and increase proteoglycans and collagen synthesis rates of more than 10%. As a result, they provide an anti-wrinkle effect clinically proven by a decrease of the surface of wrinkles at crow's feet by 22% in 28 days. All tests were performed with a concentration of 0.5% of 20% cells in dispersion in 80% vegetable glycerin.
StandStill Rose from Damas is not allergenic, preservative free, and can be used in any type of formulation from skin care - anti-ageing creams, daily treatments, essence and serums, masks, etc. - to make-up applications - foundation, primer, BB creams, eye contour, etc. StandStill Rose from Damas suits any type of skin, especially mature skins.
Ecocert and NATRUE agreements on request for all liquid forms.
Other News