New range of botanical extracts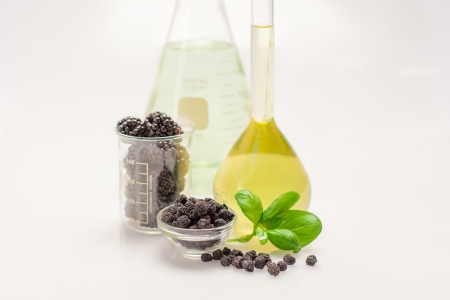 Statfold has announced that the company now produces botanical extracts. Statfold offers a wide arrange of extracts from stock which include super fruits, herbs and flowers; most of which can be supplied with Cosmos and Organic certification.
Statfold can also offer a bespoke service with workable minimum order quantities. Botanical extracts are a perfect addition to the company's ever-growing portfolio of in-house produced Organic, Natural & Refined oils along with globally sourced Oils, Essential oils and Butters.
Also new to Statfold's portfolio of in-house produced oils are a variety of blended oils. If a formulation requires more than one oil Statfold are now able to offer tailor made blends. They can either match an existing formulation or develop bespoke blends ready to add straight into the formulation. This can help reduce the cost associated with purchasing the MOQ of numerous oils. It can also help reduce stocks of inventory and SKUs.
Statfold has developed blends which are high in essential fatty acids, these have been specially formulated to offer specific ratios of essential fatty acids.
Available from stock:
Superseed Blend-The omega 3, 6 and 9 Powerhouse
This super seed blend provides maximum hit of all 3 Essential fatty acids Omega 3 (Alpha Linoleic) Omega 6 (Linoleic Acid) Omega 9 (Oleic Acid ) Blending 7 nutritious oils this rich blend is produced entirely in-house cold pressed using seeds for Safflower, Flax, Chia, Evening Primrose, Perilla, Borage and Hemp making it an ideal addition to organic and natural skin care specifically for those tired skins in need of a boost.
Omega 6 Berry Blend
The Omega Berry Blend provides the perfect balance for sensitive skins, this rejuvenating, fast absorbing and nourishing blend with its optimised content of Omega 6 (Linoleic Acid) is perfect for soothing irritated skin. Focusing on 4 vibrant berries produced in-house cold pressed from the seeds of Raspberries, Cranberries & Blueberries.
Mediterranean Omega 9 Blend
Statfold's Mediterranean Omega 9 inspired blend provides its richest source of Omega 9 (Oleic Acid). This rich & nourishing oil with its non-greasy skin feel and optimised content of Omega 9 (Oleic Acid) is an ideal addition to any skin care range devoted to the treatment of dry, ageing skin and hair care. This oil is produced in house using Almond, Olive, Argon & Prickly Oils.
Men's Omega 9 Blend
The spicy golden blend provides a rich source of Omega 9 (Oleic Acid) and 6 (Linoleic Acid) along with a spicy masculine aroma makes it an ideal addition for natural skin care specifically those targeted at men. Blending 4 nutritious oils this rich oil is produced in-house using the seeds from Black seed, Camelina,
Perilla and Grapeseed oil.
Other News
Featured Supplier

At the end of 2012, the logical decision was made to combine the functionings of both KCC Silicones and Basildon Chemicals in the personal care sector under on brand and banner; and so KCC Beauty was born. This brand encompasses the hair care expertise of Basildon Chemicals with the skin care knowledge and manufacturing might of KCC Silicones.