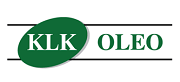 KLK OLEO
Level 8, Menara Klk, No. 1, Jalan Pju7/6
Mutiara Damansara,
Selangor

Petaling Jaya
47810
Malaysia
COMPANY INFORMATION
KLK OLEO is a global oleochemical producer, offering an array of high quality, innovative and sustainable products and solutions. We are the manufacturing division of our parent company, Kuala Lumpur Kepong Berhad, a leading international plantations group listed on the Main Market of Bursa Malaysia Securities Berhad, with a market capitalisation of approximately RM21.7 (USD5.2) billion at the end of September 2021.
KLK OLEO's production portfolio ranges from basic oleochemical products, such as fatty acids, glycerine, fatty alcohols and fatty esters, all the way down the spectrum to specialities, such as methyl ester sulphonate (MES), surfactants and phytonutrients. Our products are used in diverse end-use applications, including home & personal care, pharmaceuticals, food & nutrition, flavours & fragrances, lubricants and industrial chemicals.
At KLK OLEO, we are committed as a trusted global partner and reliable supplier in the oleochemical industry to enrich everyday life in a sustainable manner. Our business strength lies on:
Integrated oleochemical complexes, with 13 manufacturing facilities which are strategically located in Malaysia, Indonesia, China, Germany, Switzerland, Belgium and The Netherlands;
Capable of delivering Traceable, Segregated and Mass Balance certified oleo-based products produced in RSPO Supply Chain Certification (SCC) certified facilities. It is made sustainably, responsibly, and ethically and can satisfy our customers' product development and sustainable needs;
Headquarter in Malaysia with international sales offices in 3 continents (Europe, Americas, and Asia) and supply products to over 123 countries worldwide.
We are backed by a strong workforce of over 3,000 people worldwide.
VIDEO ABOUT KLK OLEO
KLK OLEO IN BEAUTY AND PERSONAL CARE (Send Enquiry)
Find inspiration and practical solutions for meeting consumer needs with our selection of ingredients
Anti-ageing / Skin Brightening Agent
Cleanser
Emollient
Emulsifier / Solubiliser
Fatty Acids Soap
Foam Booster / Thickener
Humectant
Opacifier / Viscosity Modifier
Pearlescent
Pigment Dispersant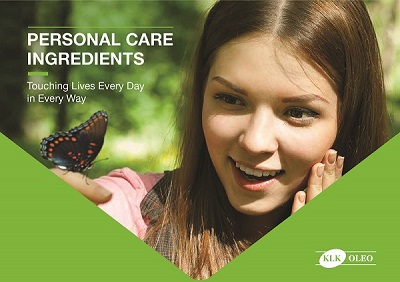 DAVOSLIFE E3 TOCOTRIENOLS – Bioactive SUPER VITAMIN E FOR BENEFITS BEYOND ANTIOXIDATION
DavosLife E3 Tocotrienols is a natural Vitamin E comprising the full spectrum of Tocotrienols and alpha-Tocopherol. It is a potent bioactive for use in topical applications and oral beauty supplements.
DavosLife E3 range of Tocotrienols are versatile, multifunctional bioactive ingredients:
They provide potent antioxidant protection from oxidative stress.
They reduce inflammation in the skin.
They have unique skin brightening properties, which alpha-Tocopherol does not.
They upregulate COLI and COLIII genes to stimulate collagen production.
This multifunctional efficacy enables formulators to use fewer ingredients and allows multiple applications:
Anti-ageing
Anti-pollution
Blue Light Protection
Suncare
Skin Brightening / Lightening
DavosLife E3 Tocotrienols are approved by ECOCERT Greenlife in accordance with COSMOS Standards and complies with all major international regulatory standards on Persistent Organic Pollutants and other contaminants in health supplements. Assessments conducted by the Cosmetic Ingredient Review (CIR) Expert Panel concluded that Tocotrienols are safe to use in cosmetics.
More information on skin and health benefits of DavosLife E3 Tocotrienols, visit www.klkoleo.com/DavosLife or contact our Sales Professional at info@davoslife.com
Formulated with high bioabsorption, DavosLife E3 Complete Tocotrienols softgels are available for online purchase at www.klkoleo.com/davoslife/estore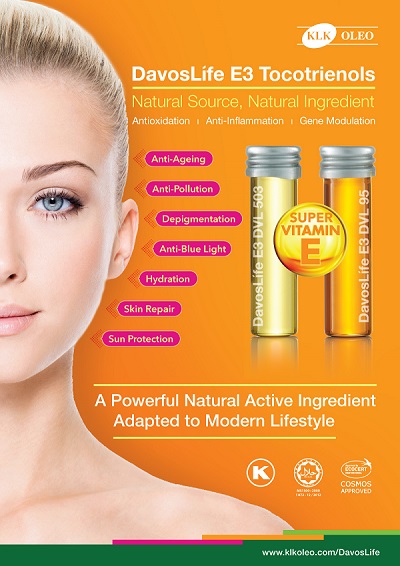 For enquiry: https://www.klkoleo.com/product-enquiry
GLOBAL PRESENCE
KLK OLEO Corporate Office (Malaysia) :
Tel: +603 7809 8833 Email: personalcare@klkoleo.com
KLK OLEO Americas (United States):
Tel: +1 516 584 6268 Email: info.americas@klkoleo.com
KLK Emmerich GmbH (Germany):
Tel: +49 (0) 2822 72 0 Email: info.europe@klkoleo.com
KLK OLEO (Shanghai) Co., Ltd. (China)
Tel: +86 21 3636 1130 Email: info.china@klkoleo.co
PRODUCTS AND SERVICES