Double nominee for Best Ingredient Award 2020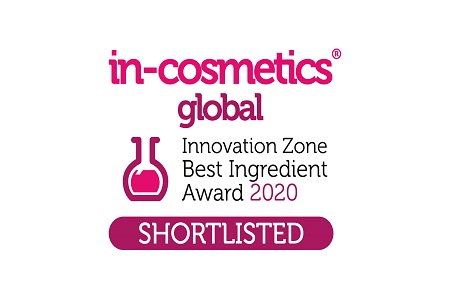 Two new microbiota-respectful actives, based on the plant stem cell technology of Vytrus Biotech, have been shortlisted for Best Ingredient in the world 2020.
The biotech company has been selected as a finalist for its two new cosmetic ingredients in the category 'Best Ingredient Award 2020' at in-cosmetics global. This is the best recognition to the innovation in cosmetic active ingredients within the industry worldwide amongst the beauty heavyweights.
Vytrus Biotech team has been working hard on the development of two new active ingredients launched in 2020 that naturally address the care of the skin microbiota: Kannabia Sense and Deobiome Noni. The first of its actives – Kannabia Sense – is an innovative prebiotic ingredient made from Cannabis plant stem cells that stimulates the production of oxytocin through the skin, activating the brain pleasure centres. This process, respectful with the skin microbiota, induces a better self-perception and positive emotional parameters, ending up with a healthier and prettier skin.
The efficacy of Kannabia Sense has been demonstrated through several in vitro and in vivo tests. The most innovative of those assays was the functional Magnetic Resonance Imaging (fMRI), a sophisticated technique that measures changes in brain activity by detecting changes in blood micro-flows when neurons of a brain area are activated after applying a topical lotion. A new test in Cosmetics that required an ethical committee approval at Hospital de la Fe in Valencia (Spain).
The active showed an activation profile like oxytocin, demonstrating its ability to activate the neuroendocrine skin-brain axis, similar to touch and massage and its emotional effectiveness. This activated brain pleasure regions are related to a greater social predisposition and attractiveness of the person.
While Kannabia Sense represents a step ahead in Neurocosmetics, well-ageing, and skin care, the second ingredient shortlisted – Deobiome Noni – is a biological deodorant ingredient from plant stem cells that efficiently reduces body malodour while sustainably respecting the skin microbiota.
The ability of Deobiome Noni to reduce body odour was tested through both in vitro and in vivo assays. First, more than 100 molecules responsible for body odour were analysed by gas chromatography, demonstrating the reduction of these odorous molecules by 39%.
On the other hand, the average intensity of underarm odour was studied in the volunteers after having applied the active. The study showed a 30% reduction versus initial treatment and down to 82% odour reduction.
The deodorant ingredient is ready to be applied in body, axillary, foot, and scalp odour treatments (roll-on, sticks, creams…) and microbiota rebalancing formulations.
Òscar Expósito, CEO, CSO and co-founder of Vytrus Biotech, says: "I could not be happier and prouder of the great things that our team does and their contribution to the cosmetic world. It would be great to be a winner, but we are satisfied enough with this recognition to our work and passion."
These COSMOS-ECOCERT certified, natural, and sustainable ingredients have been included in the 2020 nominee list. The winner will be revealed on 6 October at In-cosmetics Global Virtual Event, the beauty trade show of reference worldwide, organised by Reed Exhibitions.
Other News
Featured Supplier

At Innospec, designing innovative personal care products is our specialty and by pinpointing what's integral to beauty today, we're able to present a portfolio of customer-centric solutions in hair care, skin care and intimate care. We feature best-in-class stand out ingredients such as, Sulfate-Free Surfactants, Specialty Silicones and...