DAY 3: Jojoba ingredients elevate clean beauty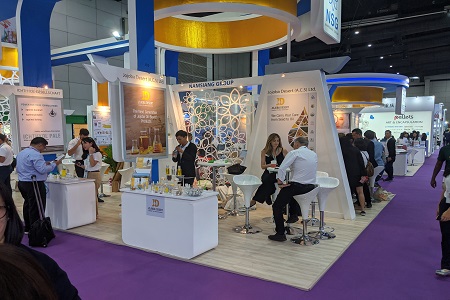 Jojoba Desert are at Booth J10 to introduce visitors to JD Jojoba Oil-based products as key ingredients for formulating clean beauty, skin-care that is healthy, natural, organic, vegan, sulfate-free and paraben-free.
With vitamin E and omega 9, which have anti-inflammatory and wound healing properties, JD Jojoba Oils can elevate products to a new level. JD Jojoba Oil combines carefully chosen ingredients, offering access to a unique sensory experience and high efficacy along with the well- known benefits of JD Jojoba Oils.
Jojoba Desert is showcasing 3 lines of Jojoba oil-based products:
JD Pure – extracted through an automated cold press process and meticulously produced to ensure the highest quality of pure, natural liquid wax. Highly refined varieties include – Golden, Organic & Colorless – each available in an odourless version.
JD Rich - a unique premium line of bases which combines JD Jojoba Oil together with carefully chosen natural ingredients. It opens a new world of fresh and trendy consistencies that provide end-users with a unique sensory experience and supreme effectiveness.
JD Care – a line of high-quality JD Jojoba oil products that showcase the versatility of JD Pure and JD Rich for various applications. The line can be customised to meet customers' needs for a more personalised cosmetic experience.
Other News