DAY 2: Purely enriching the in-cosmetics experience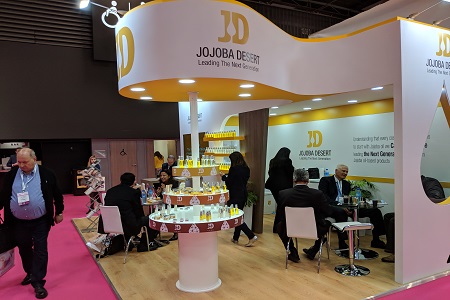 Jojoba Desert are showcasing their JD Pure line of Jojoba oils, the JD Rich line of bases and an exclusive look at the JD Care line of formulated products.
All of Jojoba Desert's offerings feature the moisturising, nourishing benefits of JD Jojoba oil, sustainably sourced from Israel's Negev desert.
The JD Pure Line are extra virgin oils extracted through an automated cold press process, ensuring the highest quality of pure, natural liquid wax. Included in the line are:
• JD Jojoba Golden Oil
• JD Jojoba Colorless Oil
• JD Jojoba Organic Golden Oil
• JD Jojoba Organic Colorless Oil
All JD Pure oils are available in naturally-scented and in odourless versions.
The JD Rich Line of bases combine JD Jojoba oil with carefully chosen combinations, offering consumers access to a unique sensory experience and supreme effectiveness. The line includes the following outstanding products:
• JD Jojoba Butter, a soft and silky butter containing Jojoba oil and other natural waxes
• JD Jojoba Aqua Cream Base, a light and smooth oil-in-water base cream
• JD Jojoba Oil Cream Base, a light mixture of Jojoba oil and mild surfactant ingredients
• JD Jojoba Silk-like powder, a velvety-soft Tapioca starch with JD Jojoba oil
• JD Jojoba Beads, a unique Jojoba wax-based, miniature exfoliant
The JD Care Line showcases examples of the thousands of creations possible and the endless versatility of JD Jojoba oil. Among them are:
• JD Jojoba Rejuvenating Peeling Butter, with exfoliating JD Jojoba beads to rejuvenate the skin
• JD Jojoba Moisturizing Lip Balm, a lip treatment that provides long lasting moisture
• JD Jojoba Moisturizing Makeup Remover, designed to both cleanse and rehydrate the skin
• JD Jojoba Soothing Protective Cream, a unique and luxurious blend that relieves irritated and sensitive skin
• JD Jojoba Soothing Baby Oil designed to moisturize baby's delicate skin
• JD Jojoba Oil Enriched with Multi-Vitamins, an innovative serum rich in multi-vitamins
Other News