Kao Chemicals Europe, S.L.
Puig dels Tudons, 10

Barbera del Valles
8210
Spain
COMPANY INFORMATION
Kao Chemicals Europe is a subsidiary within the chemical division of the global corporation Kao. We are a company with a technical and innovative orientation focused on satisfying the needs of customers and society, always following established ethical values. Our mission is to contribute to the satisfaction and enrichment of people's lives and towards sustainable development. In order to achieve these goals, we are a solution provider that adds value to the manufacture of hygiene, health and beauty products. Our activity is based also on a commitment to the environment. We continually invest in improvements that mitigate the environmental impact of our products and processes. To guarantee this commitment, our products and processes have quality certifications and are periodically audited. Ultimately, our vision is to be an indispensable company moving toward the sustainable growth of society and industry, in accordance with the values ​​of our clients.

PRODUCT CATEGORIES:
Skin is the largest part of the body and requires constant care. A healthy skin surface shows a smooth, soft and firm appearance because it is properly hydrated. Skin care cosmetics are essential to keep skin in desired and healthy conditions.
Surfactants are essential for the formulation of skin care cosmetics. Kao Chemicals Europe offers a wide range of ingredients that provide mild and safe cleansing while preserving and helping keep the skin moist. Emulsifiers, moisturizers, and rheological modifiers are also part of our portfolio.
Kao Chemicals Europe offers a wide range of surfactants with specific properties and functions that can help formulators develop an optimal product for body cleansing and body care. From conventional and traditional cleansing to the newest and trendiest formulations, we can meet customer requests.
Facial cleansers are specifically formulated for facial skin to help unclog pores and prevent skin conditions, such as acne. At Kao Chemicals Europe we are experts in surfactants technology and we know how to combine clean and care, balancing excellent cleansing performance with mildness and moisturizing.
Body Care Emulsions & Cream
Kao Chemicals Europe portfolio includes emollients and moisturizers that improve skin condition together with an extended range of emulsifiers of different ionicity and HLB. These allow the formulation of a wide range of topical treatments, from liquid lotions to heavy creams.
In our portfolio, we offer an excellent product range that allow preparing high UV-filter products, leading to high SPF values, with excellent performance.
We offer solutions with excellent pigment dispersing agents that not only offer a viscosity reduction, but also benefits in colour development.
J-Beauty – All the beauty and simplicity of Japanese way of life.
J-Beauty appeared in the market as a strong contender for preventive treatment rather than corrective. It is based on the use of innovative developments and high-quality products with long-term reliability.
Hair is one of the most important elements of personal image. Often, styling trends cause hair to undergo strong physical and chemical treatments that can cause damage. Kao's portfolio includes a variety of ingredients to maintain hair in a controlled and desirable manner.
Besides conventional cleansers, such as sulfates, sulfonates, betaines or amides, Kao Chemicals Europe offers a number of eco-friendly, very mild and effective surfactants.
Kao Chemicals Europe has developed specialties that lead to more effective and innovative conditioning formulations that are respectful to the environment and safe to the consumers.
Our portfolio includes ingredients to develop different types of hair coloration products with good colour uptake and levelling, as well as recommendations for the protection of previously coloured hair.
At Kao Chemicals Europe, we are experts in surfactants, and we know how to help you to protect hair from styling treatments. We work only with the best ingredients.
We offer ingredients to soften beard hair by providing lubrication, taking care of the skin and improving lather with Kao Chemicals Europe's ingredients.
Oral hygiene is key to the maintenance of good oral health and the prevention of oral diseases. Our surfactant range also includes some specific products to formulate toothpastes and dental cleaners.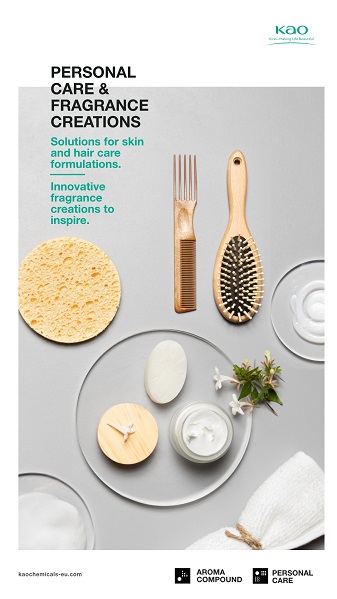 PRODUCTS AND SERVICES