Dow
2200 West Salzburg Road
Midland

Michigan
MI 48611
USA
+1 (800) 447-4369
COMPANY INFORMATION
Dow offers unique innovative ingredients that empower customers around the world to create home and personal care solutions with outstanding performance that are safe for people and the planet.
Combining profound technical expertise and market knowledge on a global and local level with one of the broadest portfolios in the industry enables us to develop technologies that offer exciting benefits, are memorable for every type of consumer and meet the growing demands for sustainable solutions.
Our team's material science and formulation expertise helps our customers create products that make consumers feel confident every day – they'll love to apply, touch and feel their skin care products while knowing they're highly protected, and they'll love showing off their noticeably healthier looking hair.
MaizeCare™ Style Polymer
Deliver the brand credentials your customers want: Outstanding hair styling performance created with natural ingredients. Dow's bio-based, non-GMO and biodegradable polymer derived from cornstarch allows flexibility in hair styling from stiff hold to subtle definition and textures from waxes to sprays. It is also awarded COSMOS by Ecocert.
SunSpheres™ BIO SPF Booster
Ramp up your summer beauty with safe and responsible sun protection: SunSpheres™ BIO SPF booster is an award-wining bio-based and readily biodegradable SPF booster that enables greater SPF efficiency in sun care and daily wear SPF products. Derived from Programme for the Endorsement of Forest Certification (PEFC) -certified wood pulp the innovative SPF booster delivers myriad benefits by reducing dependence on UV actives and enabling aesthetically pleasing formulations. It works with both organic and inorganic UV filters.
DOWSIL™ FA PEPS Silicone Acrylate
Want to engage with eco-conscious consumers without sacrificing long-lasting performance? This high-performing film form uses advanced silicone technology and a bio-based carrier derived 100 percent from renewable feedstocks. You can design long-lasting color cosmetics and skin care products with excellent sebum and wear resistance while having a higher naturality content.
DOWSIL EL TIPS
DOWSIL™ EL TIPS Silicone Elastomer is a sensory enhancer in a green carrier allowing brands to offer a unique sensory experience while meeting the growing demand for formulations with a high natural content.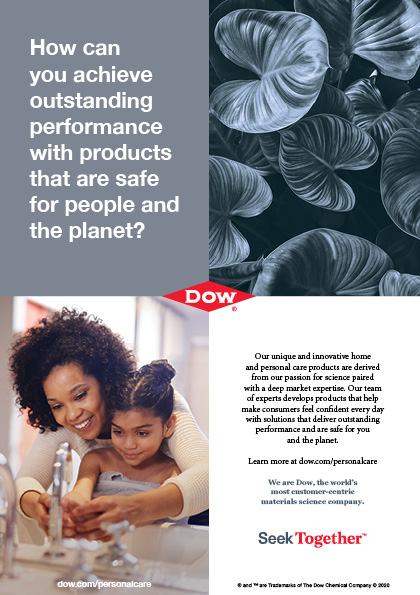 PRODUCTS AND SERVICES