Dow
2200 West Salzburg Road
Midland

Michigan
MI 48611
USA
+1 (800) 447-4369
COMPANY INFORMATION
Dow Personal Care offers unique, innovative ingredients that empower customers around the world to create products with exceptional performance and exciting benefits that consumers can trust and believe in.
Consumers that seek the confidence of a healthy appearance can see and feel the difference in our products through their lustrous hair or radiant and protected skin.
We leverage our understanding of customer needs, deep market knowledge and technical expertise—combined with one of the broadest portfolios of technologies—to deliver personal care solutions with outstanding performance that are safe for people and the planet.
We foster these innovations on global and local levels to meet the needs of diverse consumers through business centers, research and development (R&D), manufacturing plants and customer applications centers around the world. Please visit www.dow.com/virtual/beautyexperience for more information.
DOWSIL™ PMX-1508 Fluid
Want to develop leave-in conditioning formulations that engage with eco-conscious consumers without sacrificing long-lasting performance? Part of Dow's silicone gum blends product line, this material contains an ultra-high viscosity dimethiconol gum in a bio-derived, inherently primary biodegradable carrier for use across hair care, skin care, sun care, and color cosmetic applications.
SunSpheres™ BIO SPF Booster
Ramp up your summer beauty with safe and responsible sun protection. Certified by the Programme for the Endorsement of Forest Certification (PEFC), this bio-derived and biodegradable SPF booster is compatible with both organic and inorganic UV filters. It reduces dependence on UV actives enabling aesthetically pleasing formulations that minimize irritation caused by actives, all while supporting market demand for natural formulations.
UCARE™ Extreme Polymer
With this biodegradable and bio-derived polymer (>50% bio-derived content), you can offer your customers a revolutionary, new conditioning performance. It is specifically designed for conditioners, shampoos, and leave-on products. This polymer has a cellulosic backbone, naturally sourced from non-GMO wood pulp, and certified by the Programme for the Endorsement of Forest Certification (PEFC). Responsible sourcing is what consumers trust us to offer.
DOWSIL™ EL-TIPS Silicone Elastomer
Provide a similar sensory experience as traditional silicone elastomers for your customers while meeting their growing demand for more sustainable formulations. This ingredient is delivered in a carrier obtained from a renewable source derived from sugar cane, enabling greater skin moisturization and a rich, smooth after-feel while blurring out imperfections.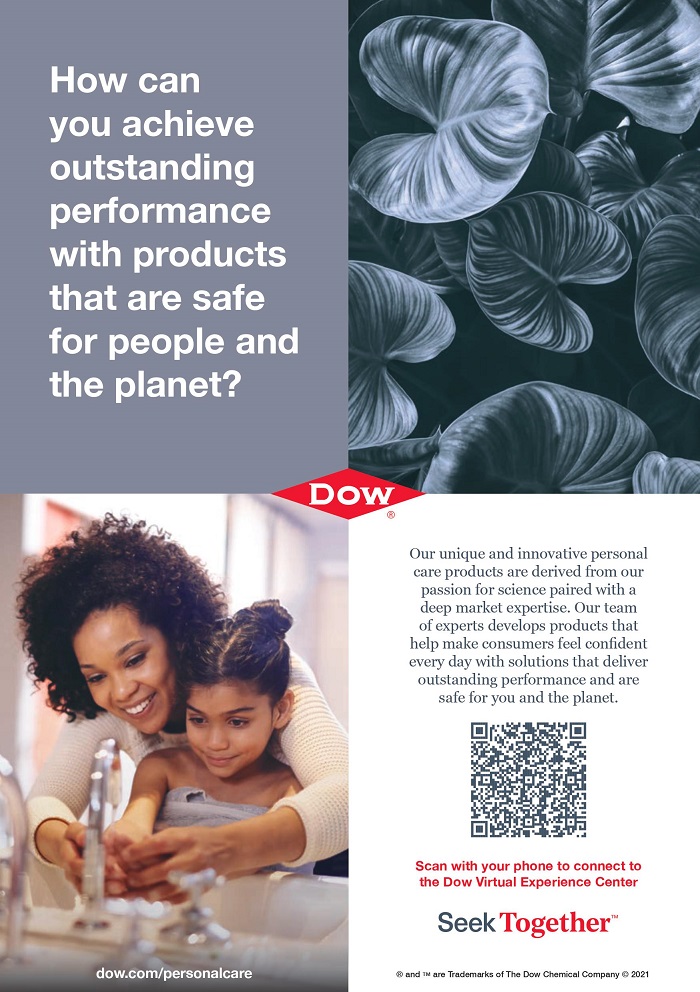 PRODUCTS AND SERVICES