SUSTAINABLE INNOVATION from IRB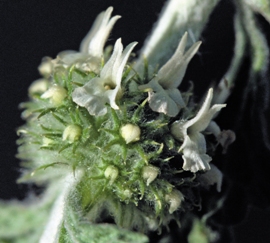 Selected as one of the finalists for the Innovation Zone Best Ingredient Award at in-cosmetics Milan, Marrubium vulgare stems G is the first and unique third generation antioxidant.
This new green biotech cosmetic ingredient is able to ensure a multi-phase protection, through immediate antioxidant activity and long term maximisation of skin self-defensive systems. Marrubium vulgare stems G is based on Marrubium vulgare stem cells and contains forsythoside B, a strong antioxidant and potent inducer of skin endogenous defence mechanisms by activation of Nrf2 transcription factor. Forsythoside B belongs to phenylpropanoids, natural substances physiologically designed to protect the plants from environmental stresses.
Protecting and enhancing the capacity of the skin to resist to environmental and oxidative stresses makes Marrubium vulgare stems G ideal in any detoxifying and anti-stress formulations as well as in anti-ageing treatments. Since these powerful phenylpropanoids are present in low amount in the plant and, additionally, in an endangered and protected species, the availability of a titrated and totally eco-sustainable ingredient is possible only through the exclusive IRB HTN technology which allows sourcing of highly active plant ingredients in a fully eco-sustainable way, with a superior level of standardisation and maximised end-user safety.

In fact on March 25th IRB HTN process won the 2011 Italian Business Awards for the Environment as the best process and technology. The Italian Business Awards for the Environment is the most prestigious recognition to private and public Italian companies who have distinguished themselves in sustainable development, environmental respect and social responsibility. The winners will also compete for the European Business Awards for the Environment which aims to recognise and reward European companies that set an example by successfully bringing together innovation, economic viability and environmental concerns.

This award has been displayed at in-focus Sustainable Beauty, where IRB has also been selected to showcase all the evidence of the sustainability of its products made by its exclusive green HTN technology. IRB's belief is that there is no sustainability without transparency. Transparency means the ability to quantify sustainability with indicators such as saving of natural resources and reduction or abolition of pesticides, herbicides, synthetic fertilisers and solvent use.
As demonstrated by comparative data with conventional agriculture and extraction procedures, all these goals are now in touch with the exclusive IRB HTN green technology able to obtain plant ingredients with a tremendous reduction of the environmental impact, totally safeguarding biodiversity and with a superior level of safety. Using as an example the plant Echinacea angustifolia, traditionally applied in the food supplements, it has been estimated that IRB HTN technology is able to guarantee a reduction of 1000 times of water consumption and 400 times of soil occupation, that can be available for food crops.

Other News