How relieving urban stress can improve skin comfort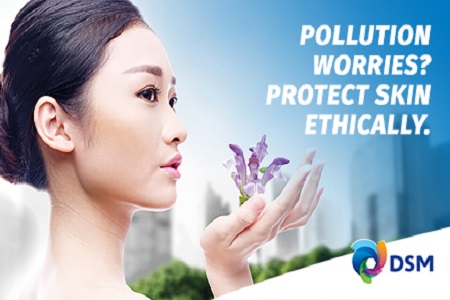 With urban populations around the world increasing rapidly, more and more people are exposed to environmental stress. Pollution, the demands of professional and family life, a lack of sleep, and a general race against the clock can all affect the appearance and feel of our skin: an unhealthy-looking complexion, unpleasant sensations, pain, and irritation can all become a problem.
Characterised by an itching, stinging, and burning sensation - comparable to the well-known effect of a hot chili pepper (capsaicin) on the skin - sensitive skin syndrome is perceived negatively by consumers. Unsurprisingly therefore, standard facial creams, soothing facial masks and on-the-go and rinse-off products are all increasingly in demand. In China, alongside sun care products and colour cosmetics, hydrating and soothing facial masks are the most sought-after products.
Two key mediators for fighting unpleasant skin sensation
GABAB receptors and β-endorphins are key mediators in sensitive skin syndrome. By stimulating GABAB receptors and upregulating β-endorphins, the unpleasant impact of sensitive skin syndrome can be reduced.
In a discovery new to the cosmetics industry, DSM's latest in vitro studies prove that the bioactive ALPAFLOR® SCUTELLARIA AO activates GABAB receptors, thus protecting against skin barrier damage and reducing skin irritation and pain sensation. It also stimulates the release of β-endorphins. What's more, a four-week in vivo study, conducted in a very harsh, polluted environment in Beijing, confirmed ALPAFLOR® SCUTELLARIA AO's excellent ability to protect the skin barrier, keep the skin looking healthy and relieve dullness, even after strong environmental stress.
Organic, fair trade-certified and sustainable skin care
In addition to its unique chemical profile and high scutellarin content, DSM's bioactive is fully sustainable and traceable. The entire ALPAFLOR® line is organically cultivated at high altitude in a very pure, unspoiled environment and DSM actively contributes to the protection and preservation of these areas and their plants. The company's local and short supply chain has received Fair for Life fair trade certification for sustainable sourcing. In addition, ALPAFLOR® SCUTELLARIA AO is Halal certified, COSMOS and NATRUE organic certified, listed in China (IECSC and IECIC) and compliant for vegan products.
The harvesting season is starting now – follow DSM on LinkedIn to get the latest updates!
Other News